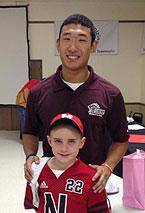 Devotional
Challenge Your Faith
Ready
He alone is my rock and my salvation, my stronghold; I will never be shaken.-Psalm 62:2
Set
There are many times in life where we may feel like the world is all on our shoulders. Stress levels soar, and you become so depressed that you feel like nothing could make you feel better. I, myself, have had this feeling countless times. Being a student-athlete in college is a completely different lifestyle. You are completely on your own when it comes to studying, and on top of studying for your classes, you have practices and competitions to prepare for. You definitely challenge yourself mentally, physically, and emotionally every week. I have recently had a renewal in my Faith, however. For some people, going to God and just praying may seem impossible. Praying to God big or small can lift your stresses off of your shoulders. There comes a point in life where life becomes bigger than sports. I have recently partnered up with the Team Jack Foundation in raising awareness for pediatric brain cancer. Joining this fight has single handily changed my life. Jack is a boy who is from my hometown. He is eight years old, and has been battling brain cancer for the last 2 years. What started as a local event of support has turned into a national spotlight. When I say that there is more to life than sports, this is what I am talking about. Why does it seem that God puts the whole world against us at times? Other times He puts events in our life that can change it completely. It is stated in the book of Psalm that The Lord is to be praised, at all times. He trains our hands for war, and our fingers for battle. (Psalm 144:1) My eyes have been opened again to the compassionate love that God has for me. He has blessed me with the talents to continue my wrestling career in college, and I intend to honor Him in every way possible. God states that everything happens for a reason. "For I know the plans I have for you, declares the Lord. Plans to prosper you and not to harm you, plans to give you hope and a future." (Jeremiah 29:11) When the world seems to be all on your shoulders or bad luck follows you regularly, just remember that God is testing your Faith. Are you committed to Him? The Bible states in the book of Timothy: "I have fought the good fight, I have finished the race, I have kept the Faith." (2 Timothy 4:7). Are you committed to finishing "the race"?
Go
1. Has there been a time where your Faith has been tested? 2. Do you believe in the power of prayer? 3. Has there ever been an event in your life that is "life-changing"? 4. Are there figures in your life who have impacted you to want to do better in life?
Workout
Psalm 144:1, Psalm 62:2, 2 Timothy 4:7, Jeremiah 29:11
Overtime
Dear God, I pray that you use Your Army to spread Your word. You give us all of our talents and give us the power to change the world. I pray that those who are struggling be lifted and be revealed to Your loving arms and that their stresses be lifted. Amen.